How many times have you found yourself facing 1 in 20 odds of becoming a millionaire? Not too often I guess, unless you like playing Progressive Jackpot Slots!
Yes, it can happen with jackpot slots, and I'm saying this from personal experience. I'll tell you something else, it's an indescribable adrenaline rush when you find yourself in the bonus round of one of these Jackpot games facing such odds.
You feel yourself tensing up as that wheel starts slowing down because you know the next few seconds could change your life instantly. The excitement of this alone makes these Slot machines worth playing. So if you're looking to win big without spending an arm and a leg, then progressive jackpot slots, as they are known in the industry, are the only way to go.
You don't need to travel far to find some jackpot joy because most online Casinos offer mega million progressive jackpot slots of various types and sizes. Just make sure you choose the right online casino to play in so you get access to the best slots out there.
Other casino games, like blackjack and roulette offer better odds of winning surely, however in order to win a million on roulette, for example, you would have to bet at least $28,000 on one spin with the odds of 36 to 1. On the other hand, with progressive slot machines you can win the jackpot with as little as a 25 cent spin.
Yes, that's right, and as you will see further on, the biggest two online jackpots won to date, worldwide, both came from 25 cent bets (or 25 pence since one of the winners was playing from the UK).
Have I got your attention now?
Are you ready to take a tour of Jackpot City?
Great! You'll find all you need to know about Progressive Jackpot Slots here, so get cracking as those multi-million jackpots are waiting for the next big winner.
What are Progressive Jackpot Slots?
Many slots have some form of Jackpot built into them. On most slots, the jackpot is either a fixed sum, or a fixed payout multiple, for example, 10,000 times your bet. On a progressive slot machine, however, the jackpot is not fixed but increases gradually over time.
Progressive jackpots would start from their seed value, which could be as high as $1 Million, for example, and rises very quickly the more people play the game. This is because on every spin, a small percentage of the bet that each player places will go into the progressive jackpot pool.
A slots game like Microgaming's Mega Moolah which is one of the most popular progressive slots, has a jackpot which easily goes over the $8 million mark, even though the jackpot is won quite often.
In most online casinos you will find 3 types of progressive Jackpot slots. Let's take a quick look at these.
Network Progressives Jackpots
In many cases, game developers, tend to tie a particular progressive jackpot pool to a group of different slot machines within their portfolio of games. What this means is that the online jackpot pool gets contributions from all bets placed on a number of different online slots and from various different online casinos.
When choosing your online jackpot slots you might notice that a group of games have exactly the same jackpot payout amount. This is not a coincidence. The jackpot pool for these different games would be the same, and therefore once it is won on any of the online slot tied to this Jackpot network, the value goes back to the original amount on all the games at the same time.
As an example, IGT, one of the most popular slots game brands, have the M.E.G.A Jackpots line of slots, which all share the same progressive jackpot pool.
This method is popular because it tends to create very large jackpot amounts, since it collects contributions from more than one slot game. It also gives players the option to target a particular jackpot but at the same time choose between various themed slots and play on the one that he or she prefers.
Standalone Progressives Online Slots
These were the original type of Jackpot slot machines. As the name implies, a standalone progressive slot is not part of a network of different games, however it can be found on various different online casinos and collects contributions from all the casinos it is featured in.
So the Jackpot amount can still be substantial however the jackpot increases only from bets placed specifically on that particular slot machine.
Local Progressive Jackpot
Local progressive Jackpots were the next step in the evolution of this type of game, and they're still commonly found. These games feature jackpots that are specific to one online casino however the jackpot can be linked to various games within that casino.
Usually the jackpots available on these games are much lower than the other two types and in most cases they're under $100,000.
Winning Progressive Jackpot Slots
So what needs to happen to win a Progressive Jackpot on online slots?
Well, there are different ways that these King Jackpots can be won. Some online slots require the traditional aligning of symbols, while others have a separate bonus game for the jackpot.
Main Game Jackpot
In the more traditional progressive jackpot slots, you win the jackpot during the main game if you manage to get the required Jackpot symbols across all the reels in a payline.
This does not necessarily have to be a straight line, especially in 5 reels slots and some progressive jackpot games require the symbols to be on a specific payline.
The Pay-table will specify on which payline the winning symbols need to align. For example, it may state that to win the jackpot prize the 5 jackpot symbols need to line up on the 20th payline, which means that if you get the same combination on another payline, you will not win the Jackpot, but instead you win a multiple of your bet.
Bonus Game Jackpot
Other online Jackpot slots have a separate bonus game in which you get the chance to go for gold. The jackpot bonus game can either be triggered when you line up a specific set of symbols or when you get a specific number of scatter symbols on the reels during the main game.
Yet on other slots, the jackpot bonus game might just pop up at random during game play, without the need to trigger any combination of symbols. This is the case for one of the most popular online slots, Mega Moolah, which currently has the most entries in the top 10 largest jackpot wins table.
Now the type of Jackpot Bonus Games vary also between one slot machine and another. Wheel spin bonus games are very popular, in which you spin a wheel of fortune style wheel and hope to land on the Jackpot prize.
Another common form of Jackpot bonus games are the 'Pick your Choice' games, where you start from the lower level and pick a symbol which would either advance you to the next level or terminate your bonus game. If you manage to progress to the last level the final symbol pick may send you to Jackpot heaven.
Is there a strategy to win a Progressive Jackpot?
It's important to make this as clear as possible. As with all other slots, there are NO sure-win strategies you can follow for Progressive Jackpot Slots.
What you might find interesting, however, is that the odds of winning a progressive jackpot are usually better than the odds of winning one of the major national lotteries. Also, with progressive slots you get many more chances of winning since, for the same cost, you are playing many more spins when compared to the number tickets you buy for a lottery.
Timing the Jackpot Payout
Some consider it a strategy to play on Progressive Jackpot slots when they are due to pay out. You will find various websites promoting a particular slot because, in their opinion, the Jackpot would be close to paying out.
The fact is, that the probability of winning the jackpot on the first ever spin of the game is the same as the that of winning it on the millionth spin of the game.
All spins have the same odds of winning the jackpot, however when game developers create a progressive jackpot game, the mathematicians involved in the programming of the game would have defined an approximate value at which the jackpot should fall based on probability theory.
So a Progressive jackpot that starts at a seed value of $1,000,000 for example might be expected to be won when the jackpot reaches somewhere between $5 million and $6 million. This would depend on various factors, and the truth of the matter is, that since the outcome is all based on chance, in reality the jackpot might be won at $1,500,000 or at $12,000,000, for example.
So even though developers might have a slight indication of when to expect the jackpot to be won, based on probability theory, no one can predict this with any reasonable certainty and therefore there is no timing strategy that will pay off.
Progressive Jackpot Payout Policies
When choosing the online progressive jackpot slots to play on there are two factors which you need to take into consideration before starting.
Qualifying Bet Amount
There are certain progressive Jackpot slots that require a minimum bet amount on each spin in order to qualify for the jackpot win.
Each progressive slots will have their own rules on this and you need to understand what they are before starting to play. If you're playing below the limit then you will either never enter the jackpot round or you might hit the perfect combination of symbols only to find out that you are only eligible for a multiplier of your bet instead of the full jackpot amount.
I don't even want to imagine the utter obscenities that would come out of your mouth if that had to happen! So make sure to check these requirements before you start wagering real money.
The slot games will usually specify these betting rules within their pay-table. Look for the Jackpot win details to understand at what level you need to bet to be eligible to win the jackpot. In some cases progressive slots require players to bet at the maximum level in order to be eligible for the Jackpot win.
As an example, in Jackpot Giant you can only be in a chance for the jackpot if you play at the maximum amount of €4 per spin. If you bet at a lower amount and manage to hit the 5 Giant symbols in a row you will end up winning 50,000 times your line bet instead.
While this is quite a nice win, it fades completely next to the potential of winning millions with the jackpot.
Casino Payout Policy
Another very important aspect to look out for when choosing a casino on which to play Progressive slots is the casino's payout policy.
Some casinos will set a limit on the maximum value that a player may withdraw each month or each week. The casino's terms may impose a maximum withdrawal limit of $1,000 for each week, as is the case in the example below, where the casino has set weekly limitations depending on the player's Class level.
It should be noted, however that the more serious casinos would not have such limits in place or, if they do, they would exclude progressive jackpot wins from this maximum withdrawal restriction.
You should never trust a casino that limits payments on progressive jackpots because the funds relating to that jackpot would have already been collected by the casino through the regular contributions going into the jackpot pool. Therefore by limiting you from withdrawing the winnings, they are effectively keeping your money for a longer period so that they can use it within their own operations.
The Most Popular Online Progressive Jackpot Slots
There are hundreds of Progressive online slots out there but only a few of them constantly give out multi-million dollar Jackpots. So if you're going to be playing these slots, might as well know which are the best options to bet on.
Mega Fortune Dreams
Mega Fortune Dreams Progressive Jackpot slots is a Net Entertainment game with 5 reels and 25 paylines. The jackpot on this slot can be won through a bonus game and is therefore not part of normal game play. This slot machine has no unique or outstanding features in terms of game play, however it does allow you to win three different jackpots and the biggest of these, known as the Mega Jackpot, is usually well into the millions.
In fact the Mega Jackpot in Mega Fortune Dreams holds the record of the highest ever paid jackpot to date for online slots, when a Finnish student won a whopping $19 million in 2013.
This online jackpot slot caught the attention of many players from the first Mega Jackpot pay-out, since the first time it dropped it paid an amazing £4 million to the lucky winner.
Mega Fortune Dreams has made quite a number of other millionaires since then and that's why it kept its popularity throughout the years, even though the game play it quite basic. If you want to try your luck at joining the Mega Fortune Millionaires Club than you should definitely try your hand on this slot.
Hall of Gods
Hall of Gods is a 20 payline online Jackpot slot which allows any player, whether betting big or small to trigger the jackpot bonus game and be in with a chance to win it.
The top Jackpot prize in this game is the the Hall of Gods Mega Jackpot. The game also offers two other lower level jackpots known as the Midi Jackpot and the Mini Jackpot. To win a jackpot one you will have to play at the 20 payline level and the jackpot bonus game comes up if you manage to get 3 bonus symbols anywhere on the reels.
In the bonus game, make use of Thor's hammer to break the shields shown on the screen. You keep breaking shields until you get three matching symbols. If the matching symbols are currency amounts you will win the equivalent value, however if you get 3 jackpot symbols, which are easily recognisable since they have the word jackpot on them, then you will win one of the three jackpots, hopefully you hit the Hall of Gods Mega Jackpot.
Mega Moolah Jackpot Slots
Mega Moolah is a progressive jackpot slot available on most online casinos that have the Microgaming slots on their platform. This game is the king of Jackpot slots and one of the most well-known online progressive slots in the gaming community due to the high jackpot values it pays out.
In fact, five of its jackpot payouts have made it in the top ten highest online Jackpots ever paid as at the date of writing. The seed value on Mega Moolah Jackpot starts at £1,000,000 which shows you that this is not for the weak of heart. The game has an average jackpot payout of €4,000,000 which falls quite regularly.
Mega Moolah actually has 4 different progressive jackpots within the game, with the largest of them being the Mega Moolah Mega Jackpot. Then there is the Major jackpot which usually runs into tens of thousands and the Minor and Mini jackpots which tend to range between £8 and £100.
The Mega jackpot is a network jackpot which means that it is shared with 4 other Microgaming slots, being, Mega Moolah ISI, Mega Moolah 5 Reel Drive, Mega Moolah Summer Time and The Dark Knight (this latter game was recently discontinued due to licensing rights).
Mega Moolah Jackpot Slot is a safari themed game with the king of the Jungle (The Lion) being the wild symbol, however you don't win the Jackpot from normal game play mode. Instead, you need to enter the Jackpot Bonus game to be in with a chance to win the Mega Prize. The bonus game can pop up at random while a player is spinning the reels during the main game.
In the jackpot bonus game the player must spin a large wheel which is split in 20 compartments of 4 different colours. Each colour represents one of the jackpot prizes on offer.
Half of the compartments in the Mega Moolah Jackpot Wheel are red and represent the mini Jackpot which pays around $10 only, another 6 compartments are orange and landing on these would pay out the Minor jackpot which is usually around $100.
The remaining 4 compartments is where the interesting prizes lie. Three yellow compartments would win you the Major Jackpot which pays out anywhere between $10,000 and $100,000, however if the wheel stops on the only white coloured compartment, then BAM, you've just won the Mega Moolah Mega Jackpot and you're an instant multi-millionaire.
Jackpot Giant
Jackpot Giant is a relatively new Progressive Jackpot slot in the online gaming world yet it immediately made a big impact, since the first jackpot prize on this game fell out at a massive €5.8 Million.
This is a Playtech game with 5 reels and 50 paylines, and unlike the previously mentioned progressive slots, there is only one Jackpot in this game which can be won during normal play mode. In order to be eligible to win the Giant Jackpot, though, you will need to play at the maximum bet level which is set at €4 per spin.
The progressive jackpot is won when you hit 5 wild symbols in a row on the 1st payline, as shown in this video of the only jackpot win registered to date from Jackpot Giant.
Major Millions
Major Millions is another Microgaming Jackpot game that can be played in either the classic 3 reel format with 3 paylines, or the more modern style 5 reels, 15 payline video slots. The game has a cartoon military theme and the jackpot starts at £250,000, however this usually escalates into millions quite quickly.
This slot does not give you an option to choose which coin value you want to bet at since these are fixed at £1 for the 3-reel version and 20p for the 5 reel version, however it allows you to choose the number of paylines you want to bet on. If you want to be in with a chance for the progressive jackpot you will need to be betting on all paylines in both versions of the game. In other words, you need to be betting at £3 per spin.
To win the Jackpot the game requires that the wild symbols are matched on all reels. So you will win if you hit 3 wild symbols in a row on the third payline while playing the 3-reel version, or if you hit 5 wild symbols on the 15th payline while playing the 5 reel version.
Shopping Spree Progressive Jackpot Slot
This might look like a game for the fairer sex, but I assure all the men out there, that you might want to give it a second chance.
Real Time Gaming (RTG) developed this 9 payline progressive jackpot slot with a slight twist. In fact, if you hit the jackpot, you get to choose either getting paid in cash or instead receiving a $100,000 shopping spree in NYC. What was not expected is that the jackpot value most of the times is much more than $100k and therefore most winners would obviously choose to take their winnings in cash.
The Progressive Jackpot in this game can only be won if you're playing on the maximum bet size, which is around £10 per spin, and to win it you need to get 5 Diamong Ring symbols on all 5 reels, on any payline. Therefore there is no specific payline on which you need to hit the matching symbols in order to win the jackpot.
Aztec Millions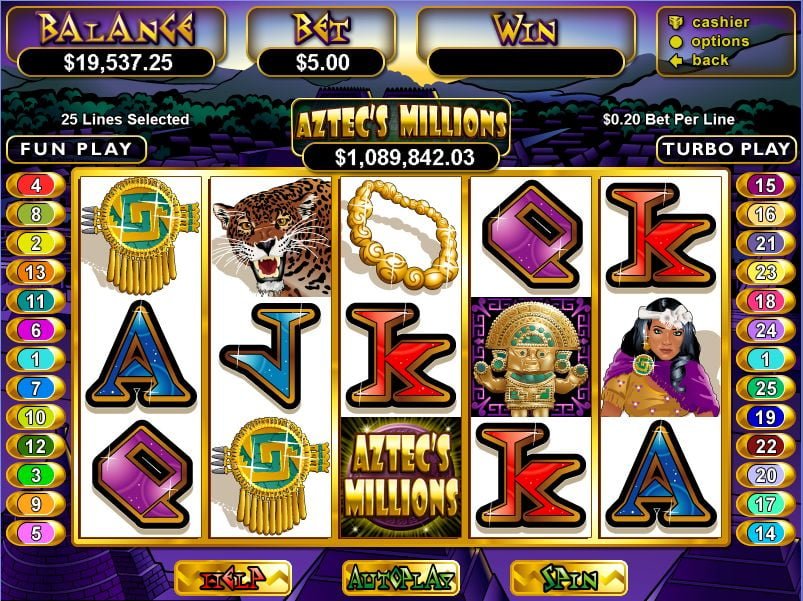 This is another real-time gaming (RTG) progressive slot machine that can be played on most RTG powered online casinos. The game has 25 paylines, however players cannot choose how many paylines to play on or how many coins to bet. So basically everyone who plays this game will be betting the same amount at £5 per spin.
This is one of the largest RTG progressive Jackpots and it starts at £1,000,000. To trigger the jackpot you need to line up 5 Aztec Millions Symbols on any one of the 25 paylines.
Joker Millions
Joker Millions Progressive Slot game is one of most recent Jackpot slots to be developed, however it has the potential to become one of the biggest jackpots in the remote gaming world.
The producers of this game, Yggdrasil Gaming are a relatively new company but they have taken the online gaming industry by storm with their unique spin (excuse the pun!) on slots games. Joker Millions Progressive Slots is one of the best games in their repertoire and the jackpot value is now easily reaching millions of Dollars.
This game has 5 reels and 25 paylines, which is quite standard, however the fun starts during game play thanks to its unique features, such as the 'freeze and re-spin' feature. To win the jackpot you need to enter the Jackpot Spin bonus round by hitting 5 joker symbols in the main game.
Once you enter the Jackpot bonus round, the game will automatically spin the reels to reveal new joker symbols which stick to the reels and stay in place for the next spin. As long as new joker symbols keep coming up in each subsequent spin, the bonus round keeps going on. It only stops if no new jokers come up within a spin, or if you manage to fill all the reels with joker symbols, in which case, congratulations, you just won the progressive jackpot prize.
This happened to Chris in July 2016, who won a cool €3.3 million while playing Joker Millions on his mobile. Watch the replay below.
​The Biggest Online Progressive Jackpot Wins
Imagine a return on investment of 7 Billion Percent. That is the % return that highest online progressive jackpot has paid out to the winner.
This is quite given that the player was betting at only 25 cents per spin. Yes, you read that correctly, because on some Progressive slots, even a 25 cents spin can win you the big jackpot prize. Not only is this possible, but strangely enough the two biggest jackpot wins recorded to date at online casinos came from these stingy bets.
The World record online Jackpot win of €17,861,800 (approximately $24 million) was registered in 20th January 2013 from a 25 cent bet. The 40 year old man from Finalnd was playing on Netent's progressive slot game, Mega Fortune at PAF casino. This guy is definitely one of the luckiest men on earth. Check out the winning spin video.
Jonathon Heywood from the United Kingdom did not do too bad either. He won the Mega Moolah Progressive Jackpot which stood at £13.2 million (around $17.2 million) on 6th October 2015. At just 26 years old this British soldier won the jackpot while he was playing for just 25p per spin on Betway Casino.
But these amounts are not one off instances either, in fact the Top Ten Online Progressive Jackpot Wins to date are all over $8 million, as we can see from the below table.
| Rank | Jackpot Slot Game | Amount Won (in $) | Date of Win | Won at Online Casino |
| --- | --- | --- | --- | --- |
| 1 | Mega Fortune Dreams | $19,000,923 | 20 January 2013 | Paf Casino |
| 2 | Mega Moolah | $16,312,200 | 6 October 2015 | Betway Casino |
| 3 | Mega Fortune Dreams | $12,484,157 | 23 September 2011 | Betsson Casino |
| 4 | Mega Moolah | $11,633,898 | 5 November 2016 | Yako Casino |
| 5 | Mega Moolah | $11,609,942 | 28 August 2016 | Zodiac Casino |
| 6 | Mega Moolah | $10,423,223 | 8 April 2016 | Spin Palace Casino |
| 7 | Mega Moolah | $10,143,123 | 17 June 2016 | Unknown |
| 8 | Arabian Nights | $9,187,097 | 23 November 2012 | Paf Casino |
| 9 | Mega Fortune Dreams | $9,124,578 | 28 November 2015 | Folkeautomaten Casino |
| 10 | Hall of Gods | $8,320,093 | 18 April 2015 | Betsson Casino |
Ready to Try Your Luck on the Biggest Online Jackpots around? Find them all 

Here

.
There's a Good Story Behind Every Win
Even more ridiculous then the jackpot amounts, is the amazing stories of how some of these Jackpots have been won. Stories that would convince you that you too could have a chance to win, but our favourite must be that of the Sleepless student.
On a hot summer night in 2011, this anonymous student from Norway just couldn't get any shut eye, so he logged into his online casino account at Betsson and decided to take advantage of a free spin offer he received on a deposit he had made previously.
While spinning these free spins he managed to win a small amount of bonus cash which he then had to wager. He wisely decided to play the few Kronas he had on the Mega Fortune Progressive slots, and within a few seconds he hit the Mega Jackpot of €11.7 million.
We're guessing he couldn't sleep much after that either. The best part is that this guy never really played slots because he usually only bet on sports events.
Special offers from casinos do pay off big time on many occasions. Even the mysterious DP knows that. On 28th of August, 2016 this person won the largest progressive jackpot on a mobile device, scooping €7.9 million euros ($11.6 million).
Apparently the winner was making use of a special offer from Zodiac Casino called '80 Chances to Become a Millionaire' whereby players could play by depositing as little as £/$/€1. Which leads us to believe that D.P. managed to win the Mega Moolah Jackpot by depositing only $1!
There are other fascinating jackpot stories like the young fella from Oslo who won the Joker Millions Jackpot playing on his mobile, while he was standing outside a boutique shop waiting for his girlfriend to finish shopping, or the Swedish man who left his online slot on auto spin while he went out to smoke a cigarette only to return and find his casino account balance had increased with an additional 5 figures!
Are You Ready for Jackpot Paradise?
As you've noticed some of these jackpots can reach ridiculously high amounts and there have been many players throughout the years who have become millionaires by playing on online progressive jackpots, winning amounts that would settle them and their families for generations to come.
Online Jackpots are only Growing Bigger
These progressive jackpot amounts keep on increasing as online casinos and progressive slots become more popular. In fact statistics show that out of the top 10 highest jackpot wins ever registered, 4 of them came in 2016.
For someone who has not ventured into the online casino world yet, this may sound unbelievable or worst yet a scam, but as you've seen, the truth is that there are a good number of online casino players that managed to hit it big with progressive online slots. After all somebody has to win, and for all the online casinos out there, a big win on their platform is a golden promo opportunity.
Online Casinos love it when one of their players wins a progressive network jackpot, especially since the win does not come out of their profits but is paid by the game provider who, in turn, would have been collecting the funds from contributions to the pooled jackpot.
So, as you can see, Progressive jackpot slots make sense from all angles and seem to benefit everyone.
From an operational perspective they encourage players to play because of the big pay-out and therefore online casinos attract more players to their site.
The gaming provider collects commissions from each bet that is placed on his games and therefore the higher and more attractive the jackpot, the more bets are placed and the higher his commission.
The player is enjoying playing slots which he would have played anyway but his experienced is multiplied by the possibility of hitting it big with only a small bet. I mean, where else can you become a multi millionaire just by betting 25 cents?
So, if you're looking for huge wins and excitement, few games offer the adrenaline rush that you can get from progressive jackpot slots, believe me, I've been on the other end of the screen staring at the bonus wheel spinning and stopping close to a big bonus win.
I haven't won it yet but will sure keep trying after all you don't need to spend much to win big as those multi-million winners can tell you.
​